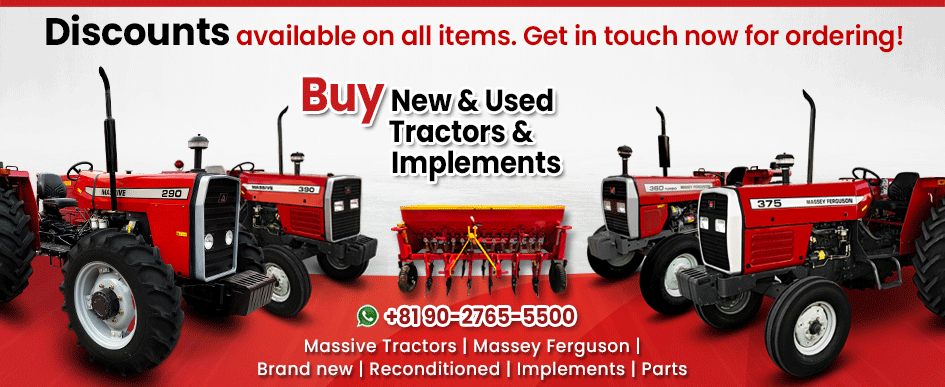 New & Used Tractors for Sale in Guyana
Brand New Massive Tractors
Combine Harvesters for Sale in Guyana
Tractors Available in Japan
Brand New Massey Ferguson Tractors
Brand New New Holland Tractors
Farm Implements in Guyana
Welcome to Tractor Provider Guyana

Tractor Provider is proud to open its doors to the South American people by offering online services in the country of Guyana. The aim of Tractor Provider Guyana is to provide the people of the country with quality agricultural machinery, as this will help increase the productivity of the local farmers, and the economy of the country itself.

Assuming that you are hoping to purchase a farm truck, pristine or utilized, we are the online Tractor dealership in Guyana to opt for. We have a wide scope of items in the two classifications and guarantee you the most affordable rates in the market. Across the board, Tractor Provider Guyana is a unique and reliable place for your cultivation needs.

What is Tractor Provider Guyana trying to achieve?

Guyana is a poor country, that is an epicenter of natural disasters. Climate change is proving to be devastating for the people of Guyana. The profession that has played the most important role alongside mining for centuries is agriculture. Among Guyana's most important economic activities, agriculture is one of the most important.

It was recorded in 2021 that 2.6 billion were earned only by exporting non-traditional crops, the main crops of Guyana include rice and sugar. Agriculture represents around 33% of Guyana's Gross Domestic Product (GDP) and 30 percent of the nation's employment. We believe that these numbers should be pumped by educating the people of Guyana about the benefits of agriculture in the region. Proper facilities could help much in this regard.

How can Tractor Provider Guyana facilitate farmers?

Facilitating the Guyanese people means providing them with world-class agricultural machinery. This would give them an equal opportunity as the rest of the world. How do we do it? We have used tractors for sale in Guyana, furthermore, we have a wide range of brand new Massey Fergusons tractors for sale. The options we give you are in terms of power, drive, size, and some other factors.

Our extensive range of tractors includes the New Holland tractors for sale. We also have Japanese tractors in used condition, as well as the finest Kubota Combine harvesters.

When it comes to Farm implements, they play a vital role in easing regular farming tasks. We sell all kinds of farm implements in Guyana, and they are compatible with the tractors we retail. These come with features that enhance the utility of the tractor itself. All in all, Tractor Provider will give the farmers the tools that will help them excel.

Whether a client orders a brand new implement or a used tractor, for us, our clients are valuable regardless. Our clients are our biggest asset, and we, at Tractor Provider Guyana, build these assets by providing the best possible tools at the cheapest possible prices. For more on how we operate, visit our home page.