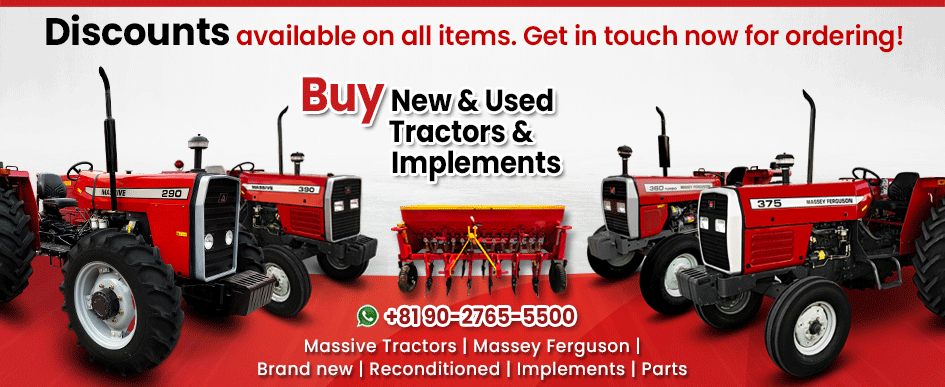 New & Used Tractors for Sale in Australia
Brand New Massive Tractors
Combine Harvesters for Sale in Australia
Tractors Available in Japan
Brand New Massey Ferguson Tractors
Brand New New Holland Tractors
Farm Implements in Australia
Welcome to Tractor Provider Australia

Tractor Provider Australia brings you the most scouted farming solutions for your everyday agricultural necessities. We offer a diversified range of farming products that belong to highly reputable brands recognized globally. We aim to help the Australian farmers to reap the benefits fully by making use of our agricultural machinery for improving their standard of living.

At Tractor Provider Australia, brand new and used agricultural solutions are available to boost the agricultural outcome for Australian farmers. We bring you the best qualitative agricultural tractors such as Massey Ferguson Tractors and New Holland Tractors that are versatile and are considered to be a lifelong investment. With the persistent supply and usage of our remarkable farm implements and other agricultural products, the agricultural burden on Australian farmers can be reduced to a great extent.

Agriculture and its co-dependence on the economy of the country

Agriculture is considered to be one of the very important assets in the economic development of the country. The agriculture of Australia is capable of producing three times food as much as the current population of the country. Their agriculture is rich in the production of wheat, sorghum, oilseeds, rice, sugarcane, cotton, and numerous fruits as well. Approximately 55% of the land of the country is under the domain of agriculture thus depicting that agriculture has been potentially relied on for the economic development of the country.

In order to continue the potential success of the agriculture of the country, the supply of agricultural machinery and in-use tractors such as Massey Ferguson Tractors and New Holland Tractors must be maintained for sustaining the stability and prosperity of the country.

Farmers' best friend

Undoubtedly, our agricultural machinery including farm implements ease the entire cultivation and other agricultural processes and are indeed farmers' best friends. At Tractor Provider Australia, we supply all sorts of farming products, used combined harvesters, and new and used Japanese tractors. Each and every farming commodity that aids the farming processes is easily available at our online store. All the cultivation processes particularly, harrowing, ploughing, sowing, etc. can be easily and efficiently done with the help of our agricultural machinery at a much reduced time span to bring about enhanced productivity and induce the economic uplift of the country.

Genuine and admirable tractor dealer

Tractor Provider Australia, a much admirable and genuine tractor dealer, based in Australia is evolving day by day to produce alternatives for farmers that not only save their time and energy but are also cost-efficient and reliable. Our tractors and farm implements are of great use for farmers in their everyday agricultural pursuits. Not only are our agricultural machinery used Japanese tractors of extreme importance to farmers, but their abundant uses also enhance the industrial and commercial output. The Massey Ferguson Tractors and New Holland Tractors, which constitute a huge share of our inventory are exemplary in terms of quality and credibility.

Looking forward to acing your agricultural business? Get in touch with us now and reap the benefits of purchasing from our online store in Australia.