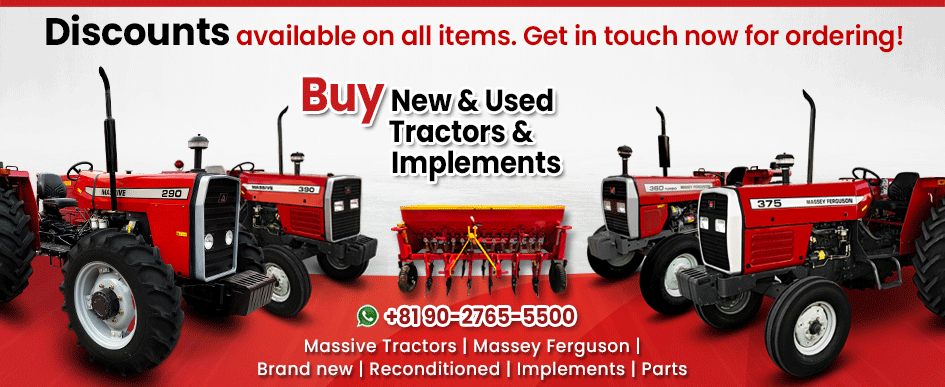 New & Used Tractors for Sale in Qatar
Brand New Massive Tractors
Combine Harvesters for Sale in Qatar
Tractors Available in Japan
Brand New Massey Ferguson Tractors
Brand New New Holland Tractors
Farm Implements in Qatar
Welcome to Tractor Provider Qatar

Tractor Provider Qatar is a venerable tractor dealer, known for its versatile tractors and farm implements that are considered to be of utmost help for the farmers. These tractors and farm implements reduce the hectic workload of the farmers by providing numerous agricultural solutions to their challenging agricultural tasks, thereby aiming for a higher yield of crops with reduced efforts and reduced time.

We are continuously striving to provide customized farming solutions to our clients, considering their requirements as our topmost priority. We provide them with the best farm implements, that when attached to any tractor, can increase its performance ability significantly. We aim to build a new future for the farmers by seeking new measures for them, enabling them to achieve an increased crop production rate by importing high-end agricultural machinery. Moreover, Massey Ferguson Tractors and New Holland Tractors constitute an integral part of our inventory, providing mechanization solutions to the global farmers for increased profitability and productivity.

Agricultural co-dependence on the economic development

The agriculture of Qatar is developed on advanced technological practices. Qatar, being a deserted land, is capable of producing numerous crops by means of Aquaponics, which is a vertical farming technique. Consequently, Qatar can produce enormous crops chiefly date palms, cereals, fruits, meat, dairy products as well as fodder for feeding livestock. Despite producing agricultural products by various high-tech practices, the dependence on imported food products still persists.

The soil of Qatar being dry and parched, with scattered oases all around, is not capable of supporting the life of all the crops. Qatar is still striving to maximize its potential resources to become self-sustainable in its agricultural fields.

For tackling the scarcity of water and other agricultural-related issues, Tractor Provider Qatar has got you covered with an entire range of agricultural equipment and essential tractors. Altogether, this agricultural machinery contributes towards the improvement of the agriculture of Qatar.

What do we offer?

We own an entire range of inventory of useful agricultural machinery, inclusive of top-quality Massey Ferguson Tractors and New Holland Tractors, farm implements, and used combine harvesters. Our goal is to provide the necessitated farming tools to the farfetched areas where the lack of agricultural resources becomes the only hindrance to agricultural development. We are here to provide numerous solutions to all the agricultural challenges, predominantly in the form of used Japanese tractors which are economical and safe to be invested in.

Our team endeavors in establishing international quality standards for Qatari farmers by focusing on the quality of the agricultural machinery. We offer brand new and used tractors and farm implements, which are developed keeping in mind the advanced technologies and requirements of the customers. Therefore, we can proudly say that we are the only eligible solution for your ever-growing farming needs.

Get in touch with us now and maximize your crop yield through our customized measures.