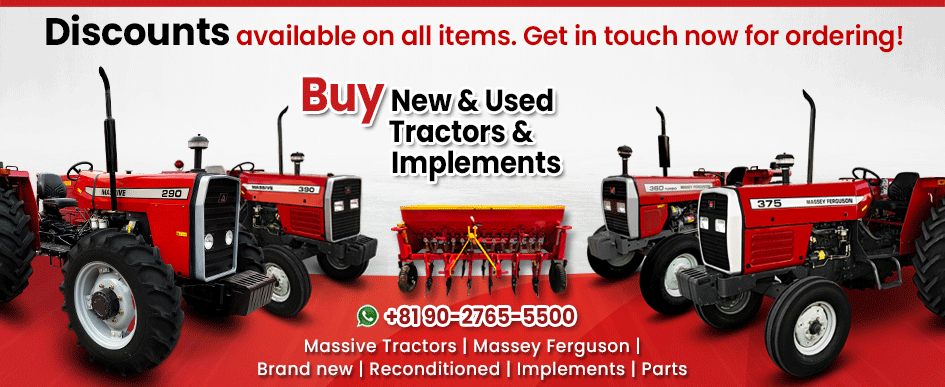 New & Used Tractors for Sale in Jamaica
Brand New Massive Tractors
Combine Harvesters for Sale in Jamaica
Tractors Available in Japan
Brand New Massey Ferguson Tractors
Brand New New Holland Tractors
Farm Implements in Jamaica
We welcome you to Tractor Provider Jamaica!

We are proud to bring to you the most advanced and upgraded agricultural solutions that will cater to your every farming need. At Tractor Provider Jamaica, we supply the best-modernized tractors, belonging to highly reputable brands such as Massey Ferguson Tractors and New Holland Tractors. Our diverse range of inventory is stocked up with all the agricultural machinery that is responsible for the increased productivity of crops.

We are a reputable tractor dealer, currently expanding our business online due to the continuous support of our customers. We aim to provide Jamaican farmers with the best approach to sow and yield, by supplying high-quality farm implements that aid the farmers to speed up the entire cultivation process. We also offer used combine harvesters that are important in the agricultural field and work by performing more than one task at a time, able to yield maximum results in minimum time.

Economic dependence of the Jamaican agriculture

For the economic development of Jamaica, agriculture is considered to be the strongest contributor. It accounts for approximately one-twentieth of the GDP while constituting approximately one-sixth of the total workforce. Through agriculture, the food security of the country is restored, foreign exchange can be earned, and innumerable job opportunities are accessible to its citizens. When the agriculture of a country is fully developed, the economic resources are plenty and the farmers can grow their crops to their fullest potential, exploiting the agricultural resources to a great extent.

Tractor Provider Jamaica is the ultimate supplier of agricultural accessories and commodities enabling the farmers to enhance crop production by reducing strenuous efforts. The farm implements that we are offering, cater to the agricultural needs of the farmers by the employment of the right techniques. The use of agricultural machinery is quite crucial for achieving greater agricultural yields.

What defines our company

Our company, Tractor Provider Jamaica, is known to be a trustworthy tractor dealer, that supplies agricultural machinery of utmost quality at affordable rates, enabling the farmers to optimize the agricultural land with ease and flexibility. We aim to bring the top-rated farming tools and tractors to the doorstep of individual farmers to assist them in their everyday agricultural operations. For the Jamaican farmers, the used Japanese tractors play a significant role in being affordable and durable at the same time. Our machinery is also light on the local farmers' pockets as they can stay within budget when purchasing with us.

Our inventory is huge, hence you will certainly find your required tractor as per your needs. All of the inventory is exclusively available at our online store. Explore and find it for yourself!