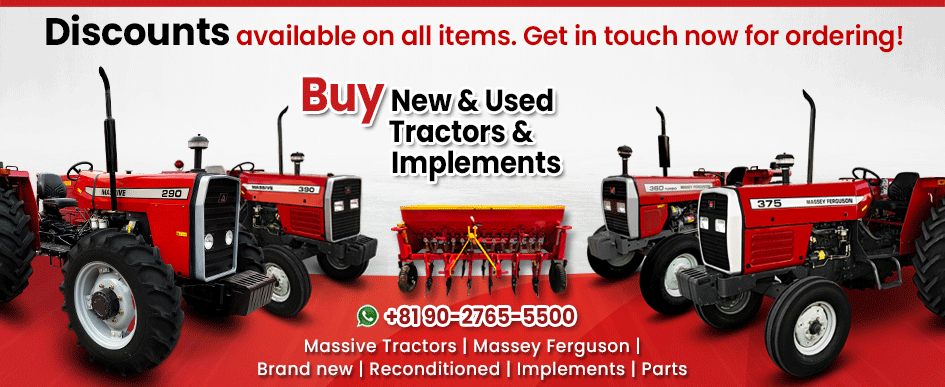 New & Used Tractors for Sale in Yemen
Brand New Massive Tractors
Combine Harvesters for Sale in Yemen
Tractors Available in Japan
Brand New Massey Ferguson Tractors
Brand New New Holland Tractors
Farm Implements in Yemen
Tractor Provider is an authentic agricultural solution provider to the farmers of Yemen. Our diverse inventory constitutes a large variety of used, brand new, and refurbished tractors that are of primal help to the farmers who are eagerly looking for ways to combat poverty and increase crop production. Other than tractors, we offer automated combines and farm implements that are of superior quality and can simultaneously perform more than one task at a time.

We are here to provide tailored services for all your agricultural needs in Yemen. Our technical and sales staff have sound knowledge and will assist you with in-depth knowledge regarding your purchase, be it a tractor or farm implement. We have been aiming to provide new farming approaches to farmers, enabling them to earn a better livelihood for themselves.

The stock of our inventory

We own an inventory of agricultural machinery that is thoroughly modernized and easy to operate to combat the everyday agricultural challenges the farmers had to face. Our tractors are developed with tremendous alloy techniques, featuring strength and reliability. These tractors come in both 2WD and 4WD options, comprising the horsepower range from 20hp to 200hp. Presently, we are offering Massey Ferguson Tractors and New Holland Tractors, their performance and torque are unmatchable. Our modernized agricultural equipment helps the farmers to turn sand into gold by eradicating the orthodox farming practices and introducing restructured tactics to maximize crop production.

The combine harvesters and Japanese tractors available at our inventory enhance the agricultural yields considerably, help in the eradication of poverty, and mechanize the agricultural yields. We also deal in farm implements that are a source of improving soil fertility and exterminating post-harvest losses.

Agriculture is your domain of success

The independence of agriculture of any country is of utmost importance as no more import expenditure of food is necessary and the country is reliant on its own resources. Yemeni agriculture has been contributing about 16% to the GDP of the country henceforth it is considered to be the lifeblood for the country's economy.

The cash crops of Yemeni agriculture including coffee, cotton, and qat, have proven to be the greatest asset in earning worthy foreign exchange. The agriculture of these crops opens up new pathways for employment opportunities to almost 37% of the Yemeni population.

Tractor Provider Yemen has been smartly incorporating the use of technology into the agricultural input for smallholder farmers. With the usage of modernized agricultural machinery and farm implements, the daily challenges that the farmers come across in the agricultural fields can be resolved easily.

Our unique approach

Tractor Provider Yemen, is one of the promising tractor dealers, currently operating in a number of African and Middle Eastern countries, with its head office located in Japan. The farmers around the globe believe in us for our timely delivery, reliable agricultural machinery, and top-notch customer service. Our farming tools and spare parts perform durably for a lifetime due to which they are considered to be a thoughtful investment for the farmers.

The motive behind Tractor Provider Yemen is to provide the Yemeni farmers with all those resources that they were deprived of in the race to sow more and grow more. When the resources are abundant, the farmers get a better chance of increasing crop productivity and tackling malnutrition swiftly.

Get in touch with us for a mechanized approach to agriculture.